Children's Dental Services in Ottawa
Sandy Hill Dental welcomes children of all ages to our Ottawa dental practice for hygiene appointments.
---
When should your child start coming to the dentist?
When your child turns 1 year old or starts to have teeth come in, it is usually best to take them to a dentist to ensure there are no complications. Depending on the status of their oral health, the dentist may recommend another visit when they turn 3 years old, or sooner.
What will your child's first visit look like?
We'll do what we can to make sure your child's first visit is easy, fun, and stress-free for both you and your child!
We'll try and take care when introducing kids to the dentist's chair. We'll even give them a 'ride' on it, and demonstrate how some of our 'cool equipment' works.
If your child feels ready for their first hygiene visit after this, we'll go ahead. If not, you can choose to bring them back when they're ready.
What will happen at my child's routine check-up?
We note the health and condition of the teeth, gums, soft tissues, head and neck. We monitor the growth of the jaws and the development of the teeth. We use all of these factors to try and create a custom treatment plan for your child.
Our hygienists can then clean your child's teeth to remove any plaque or build-up. We will try and make sure your child leaves our office knowing how to properly care for their oral health by teaching them how to brush and floss.
We can treat the teeth with fluoride to strengthen them and make them more resistant to tooth decay. We recommend cleaning and fluoride treatments twice per year to prevent decay.
How often should my child have a check-up?
Your child should visit our office as often as you do, usually every six months. If you think your child needs to see the dentist for any other concerns, make sure to ask your dental health professional for advice.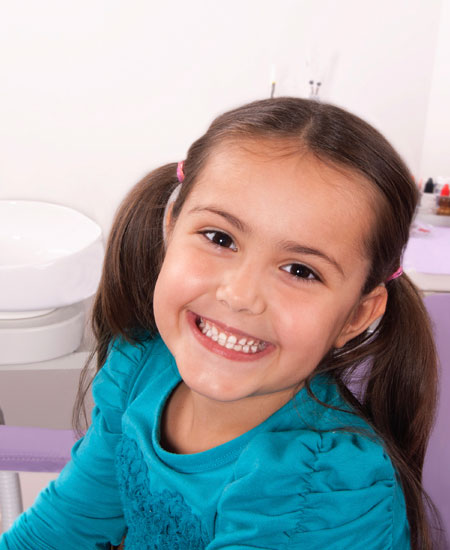 ---
View Our Other Services
Get To Know Our Practice
Featured Services
Sandy Hill Dental Centre offers a range of dentistry services for children, adults, and seniors.
| | |
| --- | --- |
| | We provide our patients with fillings for cavities, or crowns for broken or cracked teeth that need to be fixed. |
| | Sandy Hill Dental offers cosmetic services including teeth whitening, veneers and implants. |
| | We offer Invisalign® services for patients looking for orthodontic solutions for their smiles. |
---